CMCA Launches Epostcard Opportunity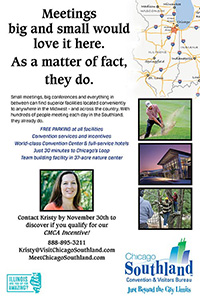 CMCA has partnered with Walter Barnard, Director at Integrated Marketing Media to start a new promotional marketing & sales program for CMCA planners and supplier partners. You will notice that the CMCA logo leads the template so you know it only comes from CMCA. This opportunity to further promote and sell your destination, hotel or facility is only available to you as a CMCA member.
Please find a sample copy of our emarketing template and a sample epostcard with a link for full view.
For only $299:
CMCA will send a promotional epostcard to all CMCA planner members. The postcard can be linked to whatever promotion or website you wish...including offering a free site visit for qualified planners.
CMCA will provide contact information of all those who opened and read your epostcard. This is a great opportunity to follow up with prospective planners.

How it Works:
Your destination/hotel/facility would supply the content for an exclusive epostcard. (Material Specifications: 500 px (W) x Height can vary between 350-700 pix. ePostcards should be provided as JPEGs in RGB color mode at 72 dpi.)

Note: If you would prefer, you may pay $375 for CMCA/IMM to create the epostcard for you.
Your epostcard will be put in within CMCA's template so the planners know you are a member of CMCA.
Your epostcard deployment will be scheduled as to when it will be sent. CMCA will ONLY deploy a single promotional epostcard each week max.
After the email is sent, you will be given a report of who opened the email and who clicked through to your website.

Contact Jayne@christianmeeting.org to schedule your epostcard today!